We Provide a Skilled Labor Force to Meet Your Business Needs and We Stand Behind Our Work, 100%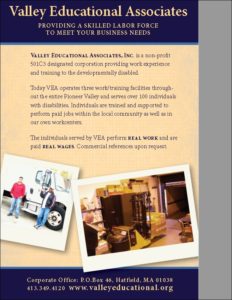 Employment Services
Job finding
Supervised jobs in community*
Sheltered work **
Vocational Training
On-the-job training
Social skills development
Furniture making
Retail Store duties
Benchwork
Professional Services
Vocational Rehabilitation
Psychological Assessment
and Consultation
Counseling
Career Assessment
and Resume Writing
* Supervised jobs include: housekeeping, janitorial, dishwashing, groundskeeping, assembly/packaging,
stocking/shelving, warehouse work, etc.
** In-House employment includes: assembly, labeling, bulk mailing, collating, woodworking, packaging and more.
Employing individuals with disabilities can work for YOUR company!  Companies which employ two or more individuals with disabilities benefit in a number of ways:
Access to an entry-level workforce that is motivated, reliable and ready to work
Support of an on-site VEA job coach throughout the period of employment, to assist our employees in exceeding your expectations.
Improved bottom line (time and money saved on training, turnover, absenteeism; increased productivity on the part of non-disabled employees)
Increased approval ratings from employees and customers for providing this opportunity to individuals who want to work.
The possibilities are endless when you believe in the power of work.
If you want to explore how a person with a developmental disability can fit into your business, contact us. We can give you a realistic idea about the jobs that someone can do for you.
Listen to what other employers have to say.